EDMONTON, AB. – The Northern Provincial Pipelines Late Model Series will be sporting a new look for the 2010 season. The rear spoiler, which has been a visual part of a NPP Late Model race car since 1998, is being replaced by a rear wing. "When NASCAR revamped its race car design back in 2007 and went with a rear wing instead of a rear spoiler, it was well received by all drivers and fans," indicates NPP Series announcer Gord Craig, "drivers and race fans here in Alberta are really going to love it too. It's not like we are changing the entire car, we are just changing the rear spoiler to a wing." The NPP Series was contacted in January by NASCAR race officials with an offer to purchase NASCAR rear wings in bulk.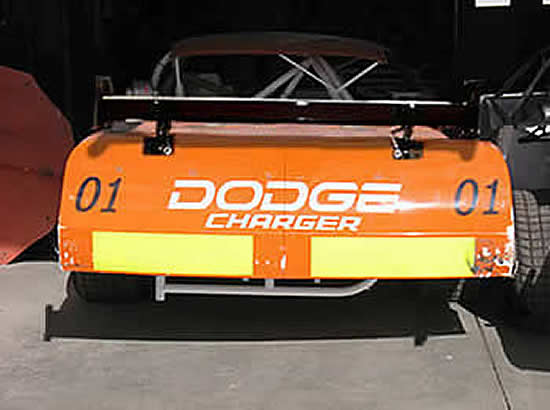 "Many race fans say the NPP Series is like NASCAR racing on dirt so the opportunity to purchase genuine NASCAR rear wings for our race cars was too good to pass up." A total of 250 NASCAR rear wings were purchased (50 used – 200 new) for $125. "It was almost like they were giving them away!"
Whitecourt, Alberta's Kevin Wheeler, one of the first NPP Series drivers to install the new rear wing on his race car, was impressed by its functionality. "It's a great place to put your beverage when you're working on the race car at home. You can't do this with a spoiler."
Benefits of the new rear wing were immediately seen by Spruce Grove, Alberta's Bruce Broughton. "It took me only 12 minutes to install this new wing compared to the 13 minutes that I needed to install the old style spoiler. That was crazy. This new wing is an absolute time saver. It has allowed me to get to work sooner on other areas of the race car." Distribution of the new rear wing to all NPP Series drivers is expected to wrap up later today (April Fools Day). Test 'n' tune at Edmonton's Castrol Raceway is just 30 days away with the 2010 season opener on May 8th.
Other announcements made on this date:
1734 – Canada's first lighthouse began operating in Nova Scotia
1918 – Prohibition took effect in Alberta.
1949 – Tupperware was patented.
1960 – Trans Canada Airlines (now Air Canada) began jet service between Vancouver, Toronto and Montreal.
1975 – Canadian radio stations started giving the temperature in Celcius.
1992 – NHL Hockey players went on strike for the very first time.
1999 – Nunavut is established as a Canadian territory.
2010 – Happy April Fools Day! The NPP Series is quite content with the rear spoiler.