EDSON, AB – Many hardcore Canadian race car drivers and fans begin looking south of the border this time of the year to fill their need for speed. Darrell Midgley, the newly crowned champion of the Northern Provincial Pipelines Late Model Series along with two-time Canadian Tire NASCAR Series Champion DJ Kennington, are two drivers that will once again fly the Canadian flag at select US races this fall and winter. Midgley, from Sidney, British Columbia, will race at least five pavement Late Model events in three US States. Kennington, from St. Thomas, Ontario, will compete at two NASCAR K & N Series events at Phoenix International Raceway. Both Midgley and Kennington will run cars with major sponsorship from Northern Provincial Pipelines Ltd. Midgley begins his off-season racing schedule at Las Vegas Motor Speedway next week.
"Looking forward to this race," exclaims the veteran pavement racer, "we did pretty well here last year." The Sidney, British Columbia driver will be competing at the 2015 Fall Classic featuring the Super Late Model 150, which runs on October 24th. This will be Midgley's eighth visit to "The Bullring" in Las Vegas since 2002. For the third consecutive year, Midgley will also be 'doubling down' in Vegas. "Going to be racing both the Late Model and the Super Late Model." At last year's Fall Classic, Midgley finished 10th in the Late Model and 11th in the Super Late Model. "It's a lot of work for the crew because the cars are completely different from each other." The payout is also different. The Super Late Model race pays $10,000 to win. The Late Model race pays $2,500 to win. After the Las Vegas event, Midgley plans on racing the NPP/Alien Race Cars #81 Dodge at select events in Arizona and California over the coming months.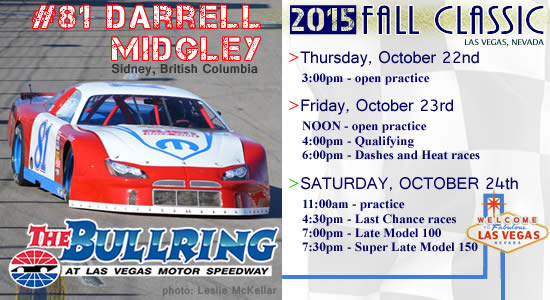 Just a few weeks after the Las Vegas race, DJ Kennington will follow the off-season footprints of Midgley south of the border to Phoenix International Raceway. "It's been a year since we've been there," says the St. Thomas, Ontario driver, "I'm really pumped for this race." On Thursday, November 12th, the K & N Series kicks off four consecutive days of NASCAR racing in Phoenix. "It will be good to get back there. We have a really nice piece this time." That 'piece' Kennington refers to is a race car that has undergone close to $20,000 worth of upgrades. "There has been some rule changes since I last ran in this Series. It has cost a bit of money but we needed to upgrade the car to be more competitive. We have a different roll cage and we've got a brand new body which will give us more down force." Kennington drove to a 7th place finish at the November 2014 race in Phoenix.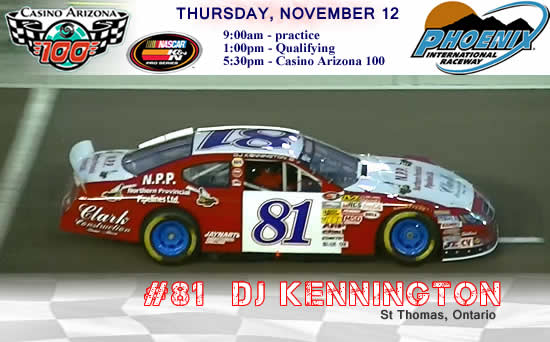 Kennington finished 7th in the 2015 Canadian Tire NASCAR Series points chase and reflected back on the just completed season. "This is the first time we've been out of the Top 3 in points in eight seasons. We will take our bumps and some lumps and look forward to next season." Kennington did wrap up the season in Canada with a podium finish [3rd] at Ontario's Kawartha Speedway. "Would sure love to carry the momentum [from Kawartha] into the Phoenix race. It's time to go racing again!" Although the 2016 schedule of the NASCAR K&N Series has not been released, officials are looking at bringing the March race back to Phoenix after a one-year hiatus. "A lot of people were a little bit surprised when it wasn't on the schedule this year." Kennington had his best ever finish at Phoenix International Raceway with a 5th place finish in March of 2014. If the K & N Series returns to Phoenix in March 2016, Kennington would compete at this race as well.
2015 TEAM NPP 'OFF-SEASON' SCHEDULE*
October 24 – Las Vegas Motor Speedway – Las Vegas, Nevada (Midgley)
November 12 – Phoenix International Raceway – Phoenix, Arizona (Kennington)
November 28 – Tuscon Speedway – Tuscon, Arizona (Midgley)
February 13 – Tuscon Speedway – Tuscon, Arizona (Midgley)
February 28 – Kern County Speedway – Bakersfield, California (Midgley)
March 13th – Phoenix International Raceway – Phoenix, Arizona (Kennington)
April 10th – Irwindale Speedway – Irwindale, California (Midgley)

*subject to additions/deletions