RIMBEY, AB. – Central Alberta Raceway's is quietly becoming the major hub of motorsport activity in Western Canada. Dale Barr, former mayor of Rimbey, Alberta and current business owner in the town of 2,500, has been part of the track organizing committee since day one. "It has certainly been an incredible experience watching this facility grow to where it is today." Back in the early 1980's the Rimbey Rodeo Grounds held the first annual Kinsmen Demolition Derby. Due to a growing spectator and competitor count, organizers soon realized they would eventually need a bigger location to host this annual event. "An inquiry was made by the Rimbey Kinsmen Club regarding an unused parcel of land just east of Rimbey. Another group stepped forward with the idea of possibly developing a motorsport facility." Since then a unique partnership was formed. In September of 2002 the first Rimbey Kinsmen Club Demolition Derby was held on the newly acquired and barren field. Actual construction of the race facility began in mid-2003.
"Since the beginning there has been a nucleus of eight people involved in finance, promotion, design and construction of the facility." Barr says squeezing a multi-purpose race facility into 80 acres of land was a little bit stressful and at times comical. "I admit we did have a go big or go home approach at first. We wanted everything. Our original plan was to have both a paved and dirt oval along with the drag strip, the mud bog area and the motocross track." The plan for a paved oval was eventually dropped. "It would have been nice to have all the tracks from our original plans," smiles Barr, "but you still need a place to park everybody [competitors and spectators]." On July 30th, 2005, with perfect weather and packed grandstands, Central Alberta Raceway hosted their first ever Oval event featuring the Northern Provincial Pipelines Late Model Series. The first major Mud Bog event, featuring the Canadian Mud Racers Organization took place in 2007. The annual Kinsmen Club Demolition derby continues every September. The motocross track, which is for members only, is being re-designed this spring.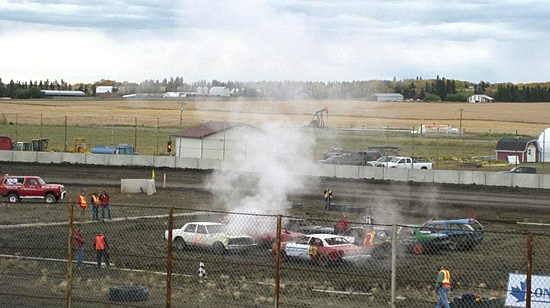 Barr says Central Alberta Raceways has been in a rather unique position since day one. "We have had several paid sponsors in place before the shovels were even in the ground. Most of the sponsors we have today came on board before the facility plans were even finalized. They understand what we are trying to do here." Central Alberta Raceway's is well on the way to premium motorsport park status. "Our facility has always operated a little different than other tracks," exclaims Barr, "we make it affordable for families to come to the races. Participants that compete here are also respected." Central Alberta Raceways is also a not-for-profit race track meaning money raised by the Rimbey Kinsmen Club and the track goes back into the community or towards facility improvement.
Almost a decade after the first Kinsmen Demolition Derby was held in the grassy field, Barr says the final and biggest phase of Central Alberta Raceway's is nearing completion. "Yes we've had a couple of false starts as far as announcing when the completion of the drag strip would take place. What I will say right now is the construction issues we had the last few years [drag strip base/drainage] are now behind us." Although Barr was a little hesitant to discuss an actual opening date, according to the Central Alberta Raceways website, Canada's newest 1/4 mile drag strip could be open in July. "This is going to be an exciting year." Central Alberta Raceways is located about an hour and a half south-west of Edmonton and two hours north-west of Calgary. The Northern Provincial Pipelines Late Model Series has tentatively scheduled three Oval race dates at Central Alberta Raceways in 2012. The NPP Series will also be involved in the official opening of Canada's newest 1/4 mile drag strip expected this summer.