READY FOR A RUMBLE IN RIMBEY
EDMONTON, AB – The Northern Provincial Pipelines Late Model Series wraps up the month of July with its only visit of the season to Central Alberta Raceways in Rimbey, Alberta. "We hit the halfway point of the season last weekend in Lethbridge," says NPP series announcer Gord Craig, "the race in Rimbey this Saturday afternoon kicks off the final half of the season. It's going to be a battle." The points chase has tightened up dramatically. What was a 119 point lead for Edson Alberta's Dwight Kennedy has dwindled to just 29 points heading into this weekend.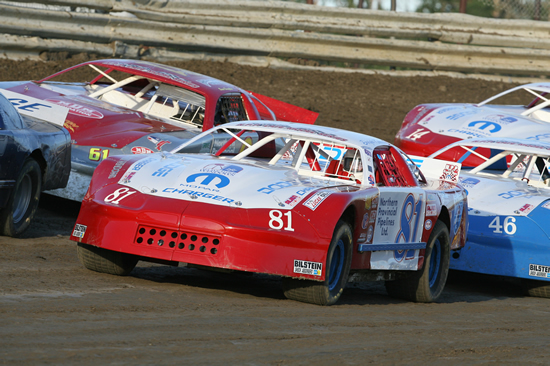 "We've got to turn it up a notch," says the driver of the #81 Lucas Oil Dodge, "we've run extremely strong in the Features this year (2 wins). The heat races are where we have struggled a bit. You have to get into the top 4 if you have any hope of a getting a good starting position in the feature." Kennedy, who has held the point lead since June 7th, has not finished worse than eighth in a Feature this season. "We've run too many 'B' Dashes this year and that really has hurt us in the points." Kennedy may get the break he needs this weekend.
Two drivers that are right behind him in Series points will not be competing in Rimbey. Jason Beaulieu (2nd) and Darrell Midgley(3rd) have previous racing commitments and are sending fill in drivers to continue running for season points. Jason's son Chris will take over the driving duties of his #46 All Weather Windows Dodge. "I'm racing my Modified down in Elma, Washington the next two weekends," says the defending NPP Season champion, "Chris will race smart (in Rimbey) but he won't be afraid to make his way to the front. He definitely knows his way around a race track." Darrell Midgley, will be at Western Speedway in Victoria BC and is sending out Brad Purdy (Port McNeil, BC) to fill in for him Saturday night. After a strong performance in Lethbridge, Mike Tom (Stony Plain, Alberta), Paul Grundberg (Whitecourt, Alberta) and Curtis Moore (Sherwood Park, Alberta) hope to continue their forward momentum in Rimbey after gaining ground on the point leader.