Three races, two podium finishes for two drivers waving the NPP flag on the September long weekend.  Brandon Carlson, drove his Wickertree/Northern Provincial Pipelines #14 Chevrolet to a 3rd place finish Saturday night in the Canada 200 at Saratoga Speedway.  Lane Zerbin ran back-to-back nights at Grays Harbor Raceway.  Zerbin finished 12th Sunday night and 2nd on Monday night in his Northern Provincial Pipelines/C-Force Marine #81 Modified.
ELMA, WA (September 5) – Lane Zerbin had hoped to race three consecutive nights on the September long weekend.  His weekend was going to begin Saturday night at Willamette Speedway.  A less than promising forecast altered travel plans for the Victoria, British Columbia driver.  He and his father (Ted) decided against traveling to Lebanon, Oregon saving over 6-hours of driving time.  The focus would instead be on Sunday and Monday night at Grays Harbor Raceway in Elma, Washington.  A strong 3rd place finish in his Heat race kicked off his Sunday night. Unfortunately things got real blurry in the Feature.  "I got tangled with a guy (end of lap 2) who doesn't really know how to hold his position.  Knocked the right front tie rod off."  Zerbin headed to the pits.  An extended on-track caution period did allow Zerbin to return to the race.  "We were actually going to call it a night but we were able to change the tie rod."  Zerbin re-started the race from the back of the pack and got by 18 drivers in 24-laps to finish 3rd…. or so he thought.  A re-count of the laps by track officials showed Zerbin re-entered the race down 1-lap after repairs to his car were complete.  Zerbin was credited with a 12th place finish.  "I still think I finished third!!"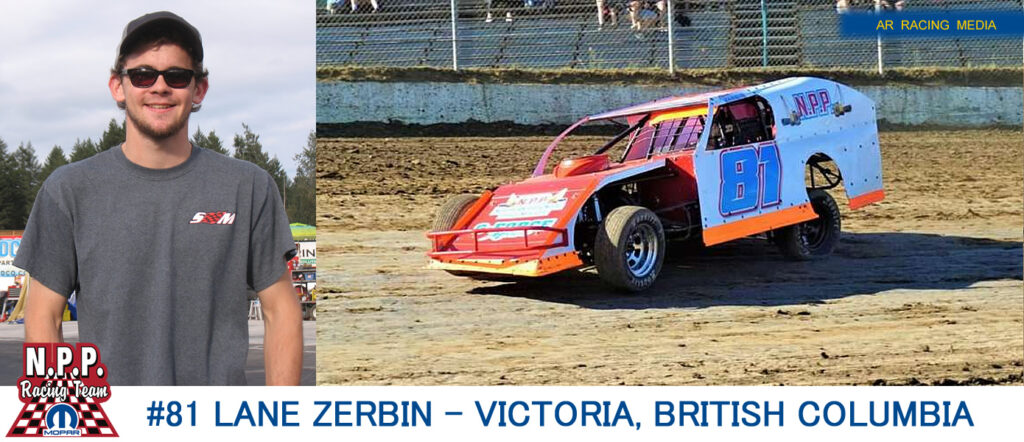 With night-one complete, Zerbin looked ahead to night-two at Grays Harbor Raceway.  The IMCA Modifieds were the support class to the World of Outlaws Sprint Car Series.  There was added motivation as drivers were competing for some rather unique trophies.  "When I saw a picture of it I told myself that I wanted one of those trophies."  For the second night in a row Zerbin scored a third place finish in his Heat race.  Monday night's IMCA Modified Feature did not see a single caution flag.  Drivers raced hard for 25-laps with Zerbin grabbing second, his best finish of the season.  "It was good to have a good showing with the Outlaws crowd.  Unfortunately we were one spot short."  Zerbin has 10-starts in 2023 and has registered 8 top-10 finishes.  Zerbin plans on running Grays Harbor Raceway on September 16th and will wrap up his season on September 22nd and 23rd at Skagit Speedway.
————————
RACE REPLAY FROM GRAYS HARBOR RACEWAY COURTESY
DIRT TRACK RACING BY STREBFEST
————————
BLACK CREEK, BC (September 3) – Brandon Carlson kicked off his long weekend at Saratoga Speedway by qualifying 4th Friday evening in his Wickertree / Northern Provincial Pipelines #14 Chevrolet.  "For sitting on jackstands all-year long I just basically gave it a bolt check.  The car was pretty darn good."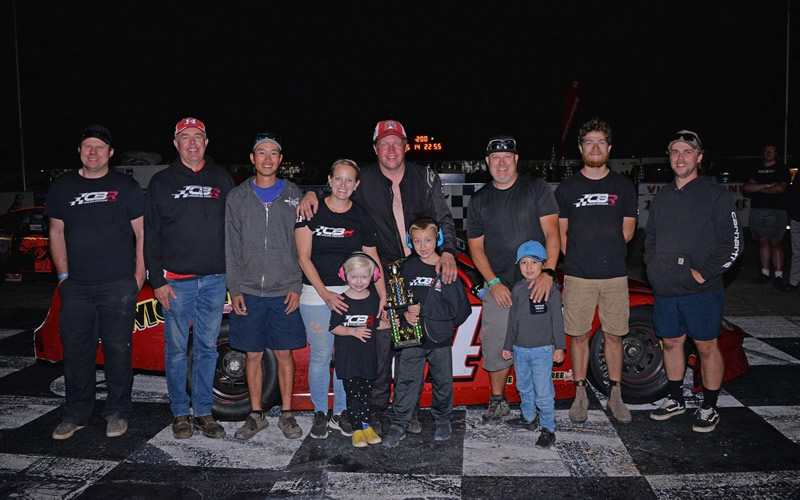 Saturday night's Canada 200 race was not without incident.  "The pace was pretty torrent right off the get-go," admits Carlson who ran as high as 3rd early in the race. The Victoria, BC driver got caught up in a two-car spin.  "Had to use the rest of the race to pick our way back forward."  With less than 20-laps to go Carlson was staring at the rear bumper of the race leader.  "We were back up to second place with a shot to win it.  That's all you can ask for."  The racing was top notch between previous Canada 200 winners.  "It was a good race for the lead.  Myself, Rory (Smith), Korbin (Thomas) and Kyle Cottam but I was a little rusty on a late race restart.  I got moved out of the way by Korbin."  Carlson, the 2020 Canada 200 champion, crossed the finish line in third.  Korbin Thomas, the defending Canada 200 champion was second.  Taking home the Reg Midgley Memorial trophy Saturday evening was Rory Smith who won it in 2021.  Eleven cars finished on the lead lap.  Twenty-one cars took the green flag.
————————
RACE REPLAY FROM SARATOGA SPEEDWAY COURTESY
SHANE WARDE'S SPEEDWAY VIDEOS
————————

NOTE: The IRONMAN award for the September long weekend goes to crewmember Mika Leong. After helping Brandon Carlson in the pits at Saratoga Speedway and the Canada 200 on Friday and Saturday night, Leong then headed to Elma, Washington early Sunday morning where he joined Ted and Lane Zerbin in the pits for the Sunday and Monday night races.