McCAUGHAN WINS – KENNEDYS POINT LEAD TRIMMED
EDMONTON, AB – The Northern Provincial Pipelines Late Model Series returned to its home track of Castrol Raceway Saturday night less than a week after venturing south of the border to Grays Harbor Raceway in Elma, Washington. Five days after his worse finish of the season (16th in Elma), Okotoks Alberta's Brian McCaughan rebounded to win his second NPP Feature of the season. "You will not find a better group of guys to go racing against anywhere," says the driver of the avenuebuilt.com #42 Chevrolet, "several teams are peaking at this point so it's all about luck right now. One crash can change it all. We had to finish up front and tonight we pulled it off. The same thing will apply for final race of the year."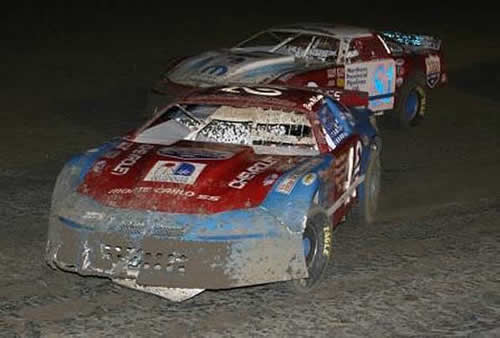 McCaughan held off Sherwood Park Alberta's Curtis Moore and Stony Plain Alberta's Mike Tom early in the Feature then had to contend with two-time NPP Champion and current point leader Dwight Kennedy for the final 13 laps. The Edson, Alberta driver was forced to finish the race in a bad handling car after contact with Bruce Broughton on lap 3 of the Feature. That contact bent the right front control arm. "We had the winning car tonight," says the driver of the #81 Lucas Oil Dodge, the contact with Bruce knocked off the set up. We had a better car than Brian tonight too but it just wouldn't turn in the corners." Kennedy's second place finish keeps him number one in the chase for the NPP Series championship. Kennedy has a 59 point lead over McCaughan with one race remaining in the 2008 season.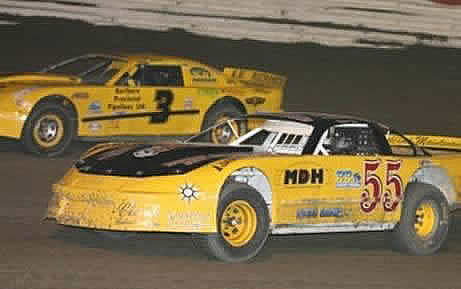 Stony Plain Alberta's Mike Tom finished third in the Feature the hard way Saturday night. On lap 12, Tom who was running second and Whitecourt Alberta's Kevin Wheeler (running third) got caught up with a lapped car that had just spun. Wheelers front right tire was ripped from its mount and was done for the night. Tom, who intentionally spun to avoid contact, had to go to the back of the pack and began his hard charge to the front. In just eight laps Tom moved his #55 Hinton Oilfield Services Chevrolet back up to third just in time for the checkered flag. "We finished third behind the two cars we needed to finish in front of tonight," says Tom, "we didn't gain anything tonight (standings). We are locked solid in third right now but we still can creep into second if everything plays in our favor at the last race." Tom sits 107 points behind second place McCaughan in the NPP Points chase. With the focus on the 2008 NPP Late Model Series Championship, there are several finishing positions from fourth on down that have yet to be decided. Only 64 points separates 4th through 8th in the current standings. With a top 3 finish now impossible, defending season champion Jason Beaulieu, in his All Weather Windows #46 Dodge, will try to hold on to 4th in the standings.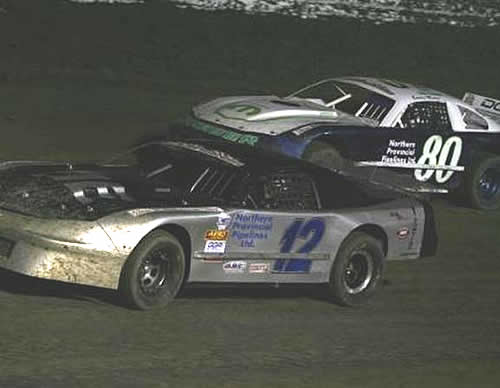 Just 9 points back of Beaulieu is last years NPP Rookie of the Year. Paul Grundberg finished fourth in points in 2007 in his Carlan Services #12 Pontiac. Getting by the defending season champion would be a small victory for Grundberg which would go with his 2 Feature wins in 2008. The final race of the season for teams of the Northern Provincial Pipelines Late Model Series takes place Saturday, September 20th at Edmonton's Castrol Raceway.
NPP PIT BITS
– only 5 Features have been won from the pole position in 2008. Brian McCaughan's two wins this season have come from the pole.
– Bruce Broughton has won 4 of the last 5 heat races he's competed in.
– With 2 Feature wins this season, Paul Grundberg has yet to register a heat race victory (won 4 heat races in 2007)
– Wayne Gideon became the 15th different driver to register a heat race win Saturday night (NPP record is 22)
– at 1450 points and one race to go, Dwight Kennedy now sits second for most points earned in a single season. Three-time NPP Champion Trevor Emond holds the current record: 1,515 points (2005 season)
– Trevor Emond won the 2003 NPP Season championship by 337 points (NPP record)
– Dwight Kennedy won the 2006 NPP Season championship by just 6 points (NPP record)
– 4 out of the 7 NPP Season championships awarded since 2001 have been decided by less than 40 points.