LEARNING THE ROPES AT A 120MPH
EDSON, AB – It's an experience these two young Alberta race car drivers won't soon forget. Edson Alberta's Crystal Kennedy and Altario, Alberta's Danielle Clark are back home after an intensive 3-day race course in Northern California. Kennedy, from the NPP Late Model Series and Clark, from the Bud Stock class, spent a weekend at the Jimmy Sills Racing School. "Its not like we jumped into the race cars as soon as we got to the track," says Kennedy, "there was about 5 hours of lectures and note taking on the first day (Friday). We did get on the track in the evening and ran about 60 laps." Both Kennedy and Clark are normally used to competing in their full bodied race cars at Edmonton's Castrol Raceway. The Jimmy Sills Racing School features a '410' Sprint Car and a wingless '360' Sprint Car.
"It was a small class," adds Kennedy, "there was Danielle and me and two other racers from California." By the time the three day race school was over both Kennedy and Clark ran 210 laps each on the 1/4 mile dirt track. "Even though I race in the NPP class, I learned a lot here," says Kennedy, "there is a lot I can apply to my race car that's for sure. I want to go racing now!"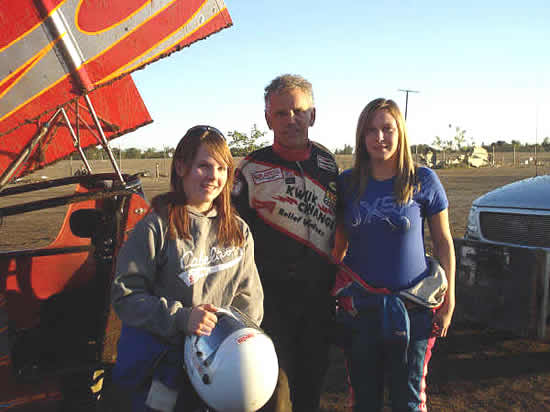 Both Kennedy and Clark have their fathers to thank for giving them the need for speed. Kennedy is the daughter of two-time NPP Late Model Series Champion Dwight Kennedy. Clark is the daughter of 2006 NPP Late Model Series Rookie of the Year Kevin Clark. The fathers however did not accompany their daughters on their California adventure opting instead to make it a mother-daughter weekend. Ruby Kennedy and Roxanne Clark enjoyed a mini vacation in the Golden State as their daughters attended the race school.