PENTICTON, BC – Penticton, British Columbia is home to beautiful lakes, beaches and of course rolling vineyards. The Okanagan community is also home to Penticton Speedway and the 2020 Late Model Invitational this Thanksgiving Long Weekend. Some of the best Late Model competitors in British Columbia will go fender to fender on the 1/4 mile paved oval track Saturday night and Sunday afternoon. Team NPP driver Darrell Midgley is ready for the race weekend. "I haven't been to this track in so long," admits Midgley, "I'm going to give it a go and hopefully have some fun." The Sidney, British Columbia driver is filling in for Jason Frost who normally pilots the Team NPP #81 Late Model. "Jason is taking care of business (Keg Restaurants) at home (in Victoria) on the long holiday weekend." Frost, who returned to Penticton Speedway last year after a 20 year absence, finished 5th and 6thin the Late Model Invitational. Darrell Midgley meanwhile last competed at Penticton Speedway in September of 2009. Midgley finished 2nd in the Team NPP #81 Dodge.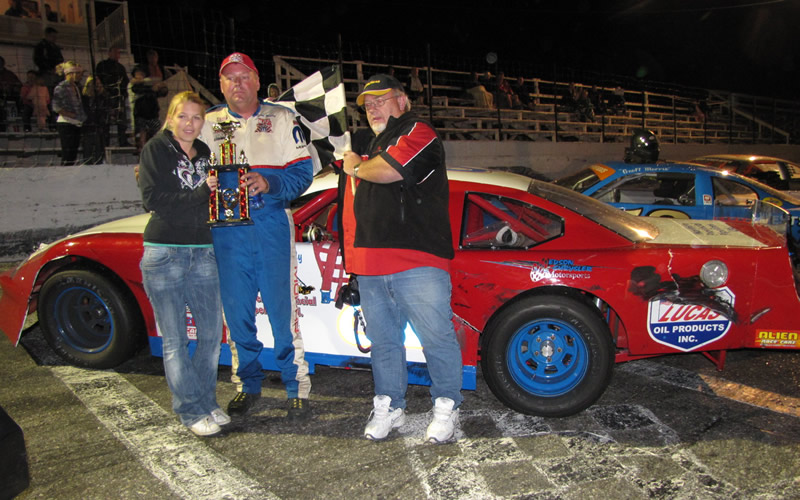 "We actually won here a long time ago in a Super Late Model. I just can't remember when." Midgley is pleased to be representing Northern Provincial Pipelines Ltd. who signed on as a major sponsor of the race. "It's a brand new sponsor for this track," exclaims Darrell Midgley, "it's been hard to attract sponsors this year when fans are being limited (due to Coronavirus)." A strong field of Late Model teams is expected for this year's Invitational. "I haven't seen an entry list but with the prize money, that should attract some cars." The race winner receives $3,000 on Saturday and Sunday. There is also prize money for lap leaders totaling another $2,000 both days. Midgley led 74 laps of Western Speedways Canada 200 in a 'borrowed' race car back on September 6th. He finished 7th after a late race incident.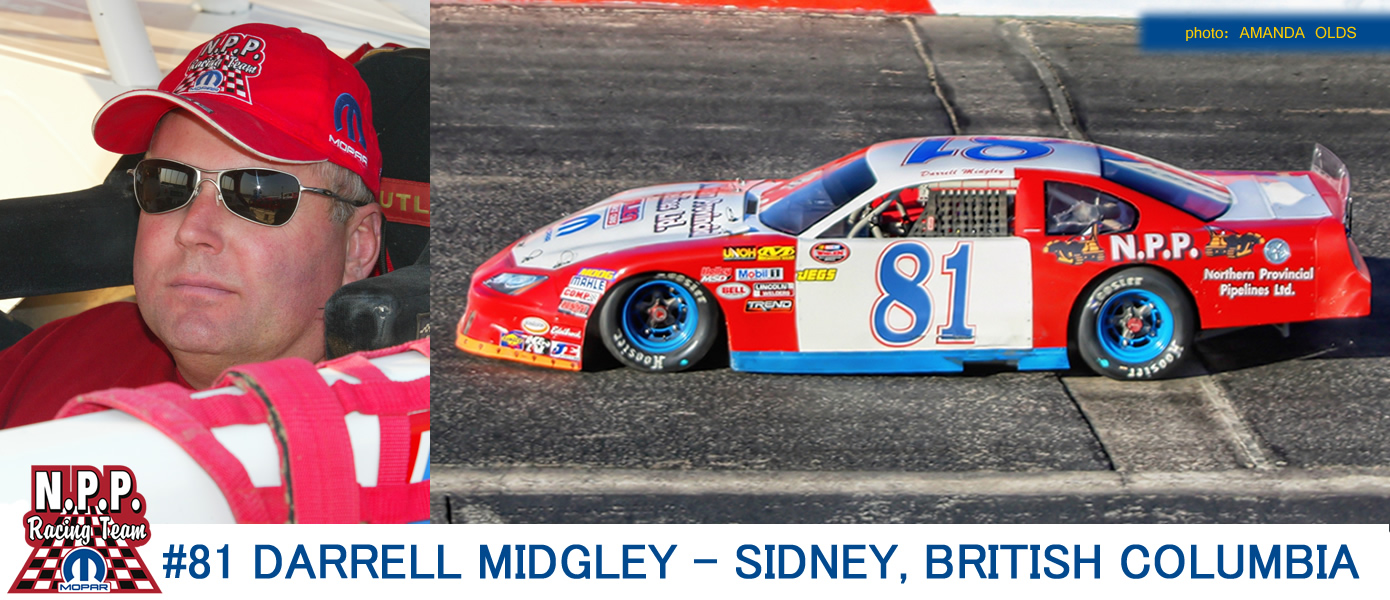 Brandon Carlson, the Canada 200 race winner, will be at Penticton Speedway on the Thanksgiving Weekend but not to race. Carlson will be crewing for Midgley. Carlson's brother Spencer, who finished second at the Canada 200 will be racing. A full house was expected at Penticton Speedway for the Invitational, sadly Coronavirus restrictions in British Columbia forced track management to cap spectator attendance to 50 people on Saturday and Sunday. The limited number of tickets available for sale are expected to go fast.

2020 LATE MODEL INVITATIONAL
Penticton Speedway – Penticton, British Columbia
Saturday/Sunday October 10th & 11th
Classes racing
Late Models
Street Stocks
Hornets

Racing Saturday at 7:00pm
Racing Sunday at 2:00pm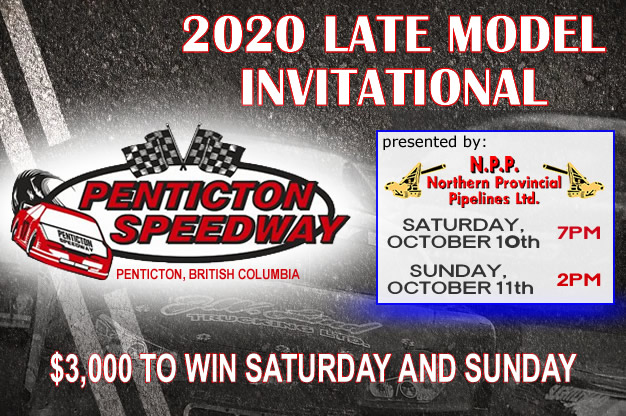 UPDATE: (October 10th) – 15 Late Models competed at Penticton Speedway Saturday night. Darrell Midgley qualified the Northern Provincial Pipelines Ltd. #81 Dodge in the #1 spot running a 13.852. Top 8 cars were inverted for the 75 lap Feature so Midgley started on the outside of row 4. Midgley gained several spots at the start of the Feature. For a majority of the race Midgley bounced between running 4th and 5th. With 19 laps to go, Midgley and Tim Graham (#2 qualifier), came together down the back straight battling for fifth. Grahams night was over. Midgley was able to continue. Just 8 cars finished on the lead lap. Midgley crossed the finish line in 6th. Victoria, BC's Spencer Carlson was Saturday nights winner. Carlson took the lead away from Grant Brown with less than 20 laps to go. Brown led more that 40 laps Saturday night.
The Late Model Invitational Race weekend wraps up Sunday afternoon at Penticton Speedway with racing starting at 2PM.
UPDATE: (October 11th) – Darrell Midgley crossed the finish line in 6th Sunday afternoon at Penticton Speedway duplicating his result from Saturday night.  Midgley started the Feature in 6th and within 5 laps was running in 5th.  By Lap 39,  Midgley moved his way up to second and began pressuring race leader Mike Haslam.   The Sidney, British Columbia driver held onto the second spot for only 7 laps.   On lap 46 Russ Jansen got by Midgley to take over 2nd.  Jansen would then get by race leader Mike Haslam a few laps later.  With just 5 laps to go and Midgley got into the back end of Haslam sending the driver spinning down the front straight.  Track officials felt the move was intentional and sent Midgley to the back of the pack.  With only 9 cars on the lead lap, Midgley managed to pass three in the remaining laps for his 6th place finish.  Russ Jansen won Sunday afternoons Feature with Jarret Brown and Grant Powers finishing on the podium.  Spencer Carlson, Saturday nights Feature winner, had mechanical problems and retired early on lap 34.