TUCSON, AZ – Team NPP drivers Darrell Midgley and Brandon Carlson kicked off the 2020 race season in the Arizona desert (Jan 24 – 26). Remaining under cover the entire Chilly Willy race weekend at Tucson Speedway was the Team NPP back-up car. It's a rare occurrence when this car is called into service. "I think we've used the back-up car a total of three times (since 2010)," says driver Darrell Midgley, "we used this car at the Turkey Shoot race (last year) when we lost the motor (in the primary car)."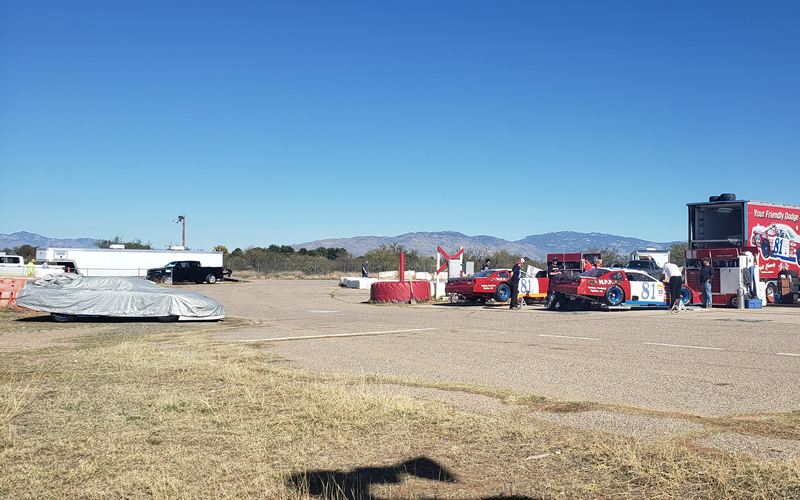 The back-up #81 Dodge is the oldest Super Late Model in the Northern Provincial Pipelines Ltd. race car fleet. "The car was built in 2006," adds Midgley, "it was brand new when we went to Redding, California for the first-time." Midgley's team-mate Brandon Carlson indicates having a back-up car is a definite luxury. "You have that safety net knowing that you are going to get to race. You are not going to get skunked out completely for the weekend."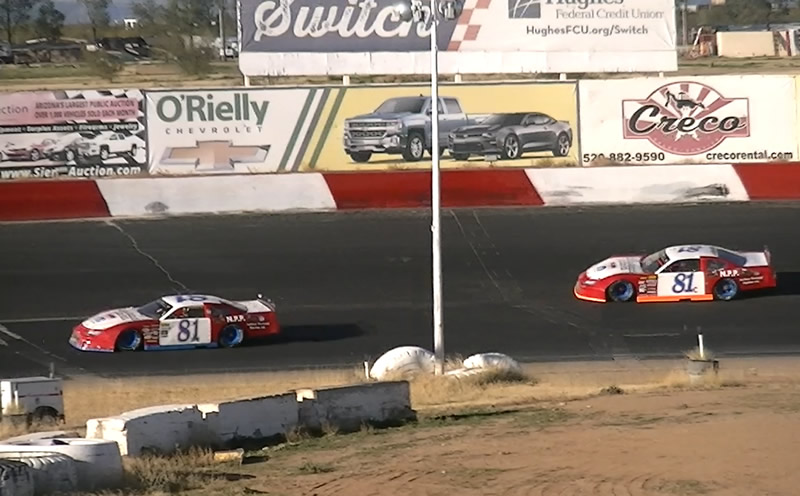 Despite Chilly Willy finishes of 16th** and 22nd, both drivers agree there were plenty of positives from the first major race weekend of the season.  "We never gave up," admits Midgley, "in the end we figured it out (car set-up)."  Handling problems plagued the #81 Dodge early at Tucson Speedway.  "We went down a lap in the first half and that killed us.  Where we ended up from where we started, we were competitive at the end."  Midgley had finishes of 9th and 10th in the preliminary Features on Friday and Saturday.
For Brandon Carlson teamwork was huge after separate on-track incidents Saturday and Sunday damaged his Team NPP #81c Dodge.  "The meat and potatoes of the car, the suspension, the motor, the drive train was ok.  The incidents though shift your focus.  Everybody chipped in and helped."  Carlson was in the pits for a majority of Sundays 150 lap race.  On lap 13, while running 12th, Carlson was run into by another driver.  The contact snapped the front left control arm.  "Unfortunately we didn't get to show the speed we had in the car," exclaims the Victoria, British Columbia driver, "(after repairs) I just went as hard as could and managed to pass a few guys on the bottom."  Carlson had 10th and 11th place finishes in the preliminary Features Friday and Saturday.  Tucson Speedway's next race is March 14th.  Darrell Midgley will be at the 2020 season opener in the Northern Provincial Pipelines #81 Dodge.  After the season opener concludes the Team NPP race hauler will make its way back to Canada.
** Midgley's was originally scored as finishing 18th in the 2020 Chilly Willy. Tucson Speedway track officials noticed a scoring error weeks after the conclusion of the race. Midgley is now credited with finishing 16th.