STONY PLAIN, AB – The sounds of racing filled East Parkland Bible Church in Stony Plain, Alberta Saturday afternoon. Close to 150 people gathered to cheer on the 40 car field in the 12th annual AWANA Grand Prix. For the third year in a row Northern Provincial Pipelines Late Model Series announcer Gord Craig provided the play by play for this indoor event. "This is an incredible family event," says Craig, "a lot of hard work and planning goes into this race. It's fun to be a part of it again this year." Hand-made wooden race cars (in three classes) compete on a ramp style track which is divided into four lanes.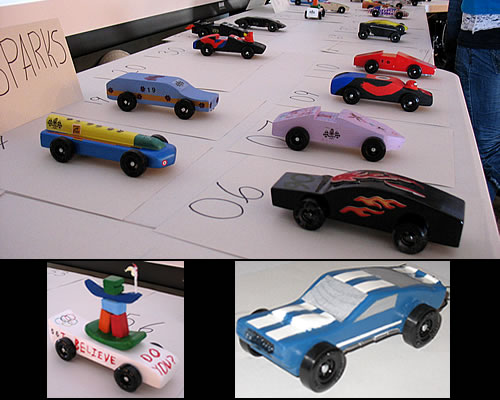 "Each car makes four passes down the track in each lane. Points are awarded where you finished." After the heats are completed the top four cars (based on total points) transfer to the finals for another session of four races which determines the champion. Several tie breaking races had to be run this year. "There were four cars tied for fourth in one of the classes, so this just added some extra excitement and drama this year."
Daniel Buchner and Adam Klassen were the winners in the two children's classes. Edith Fehr won the leader's category for the second year in a row.
AWANA is a Christian children's ministry which was founded in 1950.

THANKS TO: Stony Plain Tirecraft for the stick-on wheel weights for all the cars. Lucas Oil for the door prizes. All the volunteers (concession/race officials)

Official race results:
12th ANNUAL AWANA GRAND PRIX
East Parkland Bible Church
Stony Plain, Alberta
>Saturday, February 20th

SPARKS (ages 5 – 9)
1st #17 Daniel Buchner – Stony Plain
2nd # 5 Brooklyn Carpenter – Stony Plain
3rd # 2 Cordell Collett – Stony Plain

T & T's (ages 9 – 13)
1st #63 Adam Klassen – Spruce Grove
2nd #77 Talita Buchner – Stony Plain
3rd #70 Cieren Collett – Stony Plain

LEADERS
1st #57 Edith Fehr – Stony Plain
2nd #118 Jeremy McCoy – Stony Plain
3rd ##107 Edward Buchner – Stony Plain
———————