DECENT FINISH FOR DJ IN AZ
AVONDALE, AZ (November 12) – Canada's DJ Kennington finished 26th in the Can-Am 500 at Phoenix International Raceway on Sunday. "Really proud of the team," says the driver of the Northern Provincial Pipelines Ltd./Clark Construction #15 Chevrolet. "had a great day. I can't complain at all." This was Kenningtons 20th appearance at the Arizona track dating back to 2006. "I've said this before but I'm so fortunate to be able to do what I do. I'm glad that Dwight and Kevin were here to see it." Dwight Kennedy and Kevin Clark are Alberta business owners that have been major sponsors for Kennington at select NASCAR races over the past decade.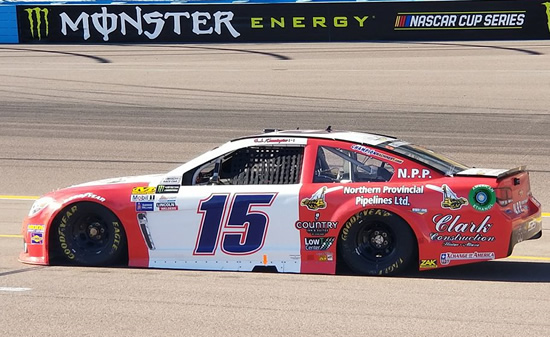 "The car is in one piece. We finished the whole race. We came home in 26th which is pretty good for the Cup Series." In his Monster Energy NASCAR Cup Series debut at Phoenix one year ago, Kennington finished 35th. "Wanted to finish better than we did last year and we did that. Its a very satisfying way to wrap up the season." Matt Kenseth was the big race winner on Sunday scoring his first NASCAR win since 2016.
>SUNDAY, NOVEMBER 12, 2017
(x) – starting postion
1. (7) #20 Matt Kenseth – Cambridge, Wisconsin
2. (4) #24 Chase Elliott – Dawsonville, Georgia
3. (5) #78 Martin Truex Jr. – Mayetta, New Jersey
4. (11) #77 Erik Jones – Byron, Michigan
5. (6) # 4 Kevin Harvick – Bakersfield, California
6.(13) # 1 Jamie McMurray – Joplin, Missouri
7. (8) #18 Kyle Busch – Las Vegas, Nevada
8.(27) #17 Ricky Stenhouse Jr. – Olive Branch, Mississippi
9.(22) #43 Aric Almirola – Tampa, Florida
10.(14) #88 Dale Earnhardt Jr.- Kannapolis, North Carolina
11.(29) #13 Ty Dillon – Lewisville, North Carolina
12.(9) #22 Joey Logano – Middletown, Connecticut
13.(20) #14 Clint Bowyer – Emporia, Kansas
14.(21) # 3 Austin Dillon – Welcome, North Carolina
15.(19) #27 Paul Menard – Eau Claire, Wisconsin
16.(16) # 2 Brad Keselowski – Auburn Hills, Michigan
17.(1) #21 Ryan Blaney – High Point, North Carolina
18.(10) #19 Daniel Suarez – Monterrey, Mexico
19.(17) # 5 Kasey Kahne – Eunamclaw, Washington
20.(18) #31 Ryan Newman – South Bend, Indiana
21.(15) #41 Kurt Busch – Las Vegas, Nevada
22.(28) #95 Michael McDowell – Glendale, Arizona
23.(23) #47 AJ Allmendinger – Los Gatos, California
24.(32) #34 Landon Cassill – Cedar Rapids, Iowa
25.(24) #10 Danica Patrick – Roscoe, Illinois
26.(37) #15 DJ Kennington – St. Thomas, Ontario
27.(30) #32 Matt DiBenedetto – Grass Valley, California
28.(36) #66 David Starr – Houston, Texas
29.(38) #33 Jeffrey Earnhardt – Mooresville, North Carolina
30.(35) # 7 Joey Gase – Cedar Rapids, Iowa
31.(33) #23 Corey LaJoie – Concord, North Carolina
32.(40) #00 Derrike Cope – Spanaway, Washington
33.(26) #38 David Ragan – Unadilla, Georgia
34.(39) #51 Kyle Weatherman – Wentzville, Mossorie
35.(2) #11 Denny Hamlin – Chesterfield, Virginia
36.(34) #72 Cole Whitt – Alpine, California
37.(31) #37 Chris Buescher – Prosper, Texas
38.(25) # 6 Trevor Bayne – Knoxville, Tennessee
39.(12) #48 Jimmie Johnson – El Cajon, California
40.(3) #42 Kyle Larson – Elk Grove, California