CRUCIAL WEEKEND FOR NPP SERIES TEAMS
EDMONTON, AB – The final Southern Alberta road trip for race teams of the Northern Provincial Pipelines Late Model Series takes place this Saturday and Sunday at Rocky Mountain Raceway Park. It's the fourth consecutive weekend that teams will battle for valuable season points. "You couldn't ask for a better script heading into this weekend's race," says NPP Series announcer Gord Craig, "it's the wind up to the busiest spot on the schedule and the points chase has never been tighter. Right now just a simple mistake, a mechanical problem or a flat tire will not only cost you spots on the track but several positions in the overall point standings as well." Current NPP series point leader Dwight Kennedy has just a three point lead over the father and son race team of Jason and Chris Beaulieu. Team Beaulieu has just a thirteen point lead over rookie driver Brian McCaughan who sits third. As the NPP point chase intensifies, race fans at RMRP could witness Series history this weekend. "Never before in the 8 year history of the NPP Series, has a rookie lead the points chase," adds Craig, "ironically Brian McCaughan could make this happen on his home track."

"Racing in this Series has been something else this year," says the Okotoks, Alberta driver, "I'm absolutely having a blast. I think the topper of taking over the point lead at my home track would be incredible." McCaughan is still savoring his first ever NPP Series Feature win at Rimbey last weekend.
Edson Alberta's Dwight Kennedy is gearing up for a battle in Okotoks. "Its pretty simple, we need two strong races this weekend," says the driver of the #81 Lucas Oil Dodge, "we need to do well in the Qualifying heats, make the 'A' Dash and get a good starting position for the Features both nights." In nine Feature events so far this season, Kennedy has two wins and seven top 10 finishes. "We have lost ground (standings) by missing the 'A' Dash the last four races. That's at least fifty points we've basically thrown away." With some of the focus on McCaughan's aspirations to make NPP Series history this weekend, history could be on the side of Kennedy. He has won two of the last four Features run at the Southern Alberta racetrack including the first race of 2008 back on May 17th.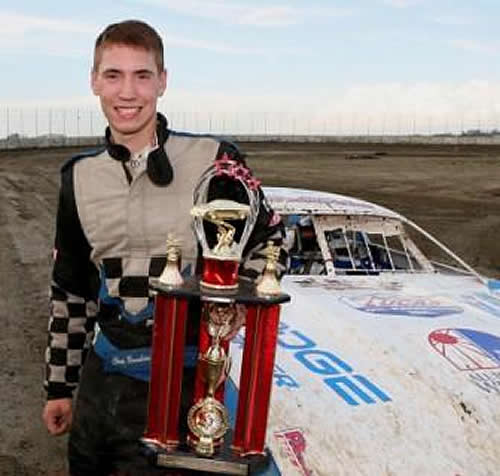 For the second weekend in a row defending NPP Series Champion Jason Beaulieu will be noticeably absent from the pits. The Campbell River BC driver will be racing his Dirt Modified at Grays Harbor Raceway in Washington State. Jason Beaulieu's son Chris will once again be behind the wheel of the #46 All Weather Windows Dodge Saturday and Sunday in Okotoks. "I'm pretty pumped for the weekend," says Chris Beaulieu, "finishing third in Rimbey (July 26th) felt pretty good. I'm hoping we can finish at the front again."
NPP WEEKEND SIDE NOTES
– Curtis Moore in his Air Power Systems #80 Dodge is looking to set an NPP Series record Saturday night in Okotoks. The Sherwood Park Alberta driver has won 3 'consecutive' Qualifying heats at three different tracks. (Rimbey: July 26th, Lethbridge: July 19th and Edmonton July 12th) Whitecourt Alberta's Jeff Grundberg was the first NPP driver to do so in 2006. (Swift Current, Okotoks and Drayton Valley)
– Bruce and Ashley Broughton, drivers of the LJB Auto #61 and #16 Chevrolet's, are sitting out this weekend's race.
– Jason Beaulieu will miss his second consecutive NPP Series race event for the first time since 2006. The Campbell River BC driver is racing his Dirt Modified in Washington.
– 5 different NPP drivers have won Feature events at RMRP since 2005.
NPP FEATURE WINNERS AT RMRP
Paul Grundberg; May 18th, 2008
Dwight Kennedy; May 17th, 2008
Kevin Clark; July 20th, 2007
Dwight Kennedy; August 12th, 2006
Trevor Emond August 13th, 2005
Gerry Emond July 23rd, 2005