CROUCHING RACE CAR, HIDDEN DRAGON
LEDUC, AB – With no scheduled event on the weekend, the Northern Provincial Pipelines Late Model Series dropped by the 2nd annual Leduc Dragon Boat races Saturday afternoon and took in the action on the waters of Telford Lake. A total of 17 dragon boat teams were on hand for the two day show.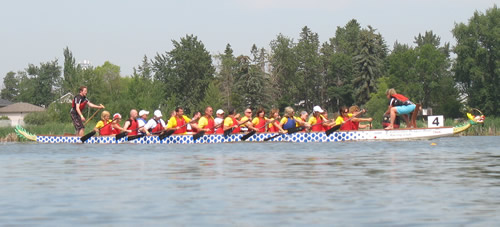 "Dragon boat racing is pretty similar to auto racing," says NPP Series announcer Gord Craig, "it's definitely a team sport. They have a pit area (for the boats). Even the rivalry's between teams and competition gets quite intense." A race weekend is made up of dozens of qualifying heats. From these qualifying heats, teams transfer to the finals. Not only is getting to the finish line important, so is the total time it takes to get to the finish line. "Four teams compete on the track in each race," adds Craig, "there is no green flag, just the sound of a horn to start the race."
Consistency, teamwork and speed are vital as 22 people are responsible for moving a 41 foot long dragon boat from the start line to the finish line. Using small oars, a total of twenty men and women propel the dragon boat to the beat of a drummer sitting at the bow. A steersperson stands at the stern with a long single oar. "There were two track lengths marked out in the waters of Telford Lake," says Craig, "they had a 250 meter length track and a 500 meter track. They also have a 2,000 meter race in which dragon boat teams would make several laps."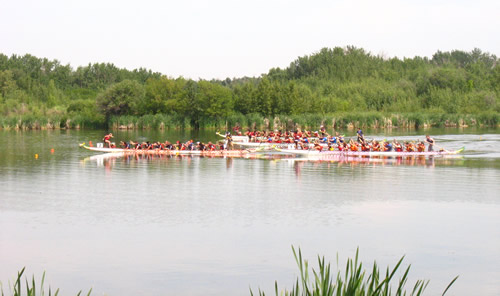 The NPP Late Model Series would like to congratulate all the winners on the weekend. Good luck to those that are now heading to the Dragon Boat Canadian Championships in Montreal in August. The Northern Provincial Pipelines Late Model Series is proud to be a part of the community and continues to be on the lookout for race related events to attend.

Next race action for the stars of the NPP Late Model Series is Saturday and Sunday August 1st and 2nd. The 17th running of the Oilmen's Invitational at Edmonton's Castrol Raceway features NPP Late Models, Stock Cars and Stock Trucks.