TUCSON, AZ – Team Northern Provincial Pipelines Darrell Midgley and Brandon Carlson kick off the 2023 race season at Tucson Speedway the first weekend of February.  The Southern Arizona facility hosts the 10th Annual Chilly Willy event featuring Super Late Models on Friday, Saturday and Sunday February 3rd – 5th.  The race weekend peaks with the big $10,000 to win, 150-lap Chilly Willy Feature, on Sunday.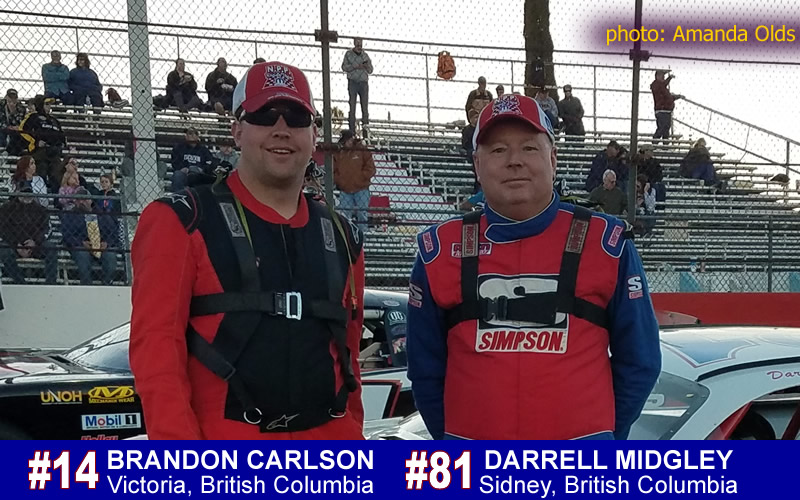 After his 4th place finish at last Novembers Turkey Shoot race, Darrell Midgley now has 35-starts at Tucson Speedway.  He made his official Arizona debut at the 2015 Chilly Willy and finished 22nd.  His best Chilly Willy finish was 10th in 2017.  "Tucson is a tough place (to race)," admits Midgley, "you go there one time, you got a really good car and then you go back and its just junk."  Midgley finished 24th at the 2022 Chilly Willy race.  "We just have to be better than we have been (at this race).  Gotta figure out the tire management which is all on me.  It doesn't matter how good you are if you don't finish."
Brandon Carlson has only competed in five Chilly Willy race events.  His best finish was 9th at last year's race.  The Victoria, British Columbia driver is looking forward to his first race weekend of 2023.  "I'm hoping we can run well inside the top 10 again.  Lead lap finish is what we are shooting for.  I think we can do it."  Carlson has had some decent results lately on both sides of the border.  "I really feel we've have some pretty good momentum going back to last year." Carlson finished 10th at the 2022 Turkey Shoot.  He also finished 2nd in one of the preliminary races. "The car was really good in November."  Carlson won the big Super Late Model race at his home track of Westshore Motorsports Park in Victoria, BC in July.  Carlson has 20 appearances at Tucson Speedway and has an average Feature finish of 10.5.  "We are ready to go (for the Chilly Willy)."  Tucson Speedway has several practice sessions planned for drivers.  Both Midgley and Carlson plan to be on the track for all practices.
DRIVERS
Brandon Carlson
Darrell Midgley
TEAM NPP CREW
Greg Barnes
Richard Carlson
Glen Crocker
Daryl Crocker
Mike Leong
Dean Pickup
Clark Pickup
Gord Rendle
TUCSON SPEEDWAY – Tucson, Arizona
CLASSES RACING
SUPER LATE MODEL (Fri/Sat/Sun)
LEGENDS (Fri/Sat/Sun)
MODIFIEDS (Fri/Sat)
PRO STOCKS ( )
THUNDER TRUCKS (Sun)
>FRIDAY, February 3
4:00pm            Gates Open
4:00pm            Qualifying
6:00pm            SLM Features X2 (50 laps)
                Legend Feature (25 laps)
              Pro Stock Feature (50 laps)
>SATURDAY, February 4
1:00pm           Gates Open
1:00pm            Qualifying
2:00pm            Modified Heats
           Legend Main (25-laps)
              Modified Feature (75-laps)
           SLM Qualifying Duels x2 (50-laps)
>SUNDAY, February 5
NOON             Gates Open
1:00pm            SLM Last Chance
          Legend Feature (50-laps)
           Thunder Truck Feature (50-laps)
             SLM CHILLY WILLY 150