YAKIMA, WA – The Washington Modified Tour wrapped up its 2019 season on the weekend. Close to 40 Modified race teams packed the pits Friday and Saturday night at Central Washington State Fair Grounds. Lane Zerbin was making his debut appearance at the Yakima facility in the Team NPP #81 Modified. The Victoria, British Columbia driver entered the race weekend 13th in the WMT point's chase. Zerbin was pleased with his performance on Night #1. "It went alright. We started on the pole for the Heat race and fell back a little bit." Zerbin finished 3rd in his first ever Heat race in Yakima. "I just wasn't too sure on my entry (into the corners) at a higher rate of speed and on a flat track. So I had to figure that out. But we made the transfer (to the 'A' Feature) which was good." In his first ever Yakima Feature, Zerbin got caught up in an early race caution. "Unfortunately one guy behind me got a little excited and took me out. I got sent to the back of the pack for the re-start." Zerbin spent the rest of the Friday Feature fighting his way back to the front. "I was up to 6th at one point in the Feature but the car was just a little too loose." Zerbin drove the Northern Provincial Pipelines Ltd./C-Force Marine #81 Modified to an 8th place finish.
Night #2 in Yakima started off extremely positive for Zerbin. "The car was really good in hot laps. It was probably better than it was on Friday night. I think we had a really good chance at a top 5 in the Feature." Unfortunately for Zerbin, the opportunity to race in the Saturday night Feature ended early. "We bent the car up pretty good." Zerbin was involved in a multi-car crash on lap 3 of his Heat race. "Unfortunately three cars spun in front of me. I really had nowhere to go. I hit one of the cars at full tilt going into the corner. It was probably the hardest hit I've had in a race car so far."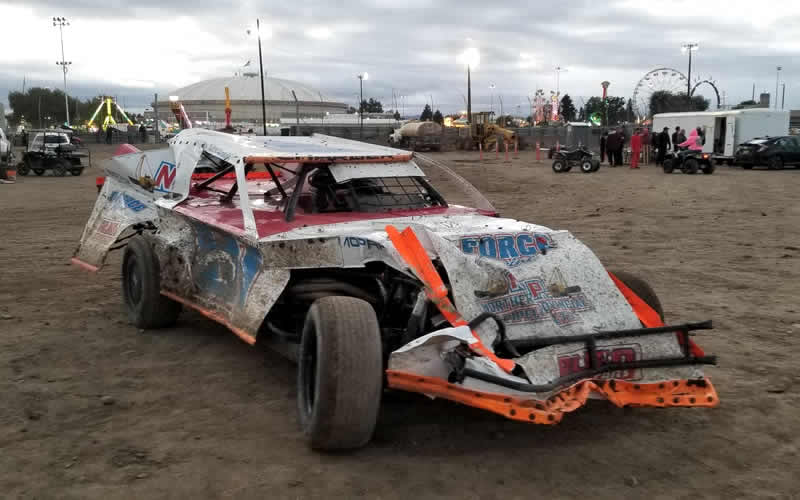 Zerbin's race night and his 2019 season officially ended in Yakima. Despite the Saturday night setback, Zerbin still managed a 10th place finish in the 2019 Washington Modified Tour points chase. Team NPP congratulates Warren, Oregon's Jeremy Martin on capturing the 2019 Washington Modified Tour season championship. Former NPP Late Model Series competitors Chris Beaulieu (Campbell River, BC) and Lawrence O'Conner (Port Hardy, BC) finished 4th and 5th in the 2019 WMT standings.

2019 FINAL POINT STANDINGS (TOP 20)
1. #99 Jeremy Martin – Warren, Oregon 736
2. #12 BJ Wild – Redmond, Oregon 719
3. #14 Kyler Moore – Seabeck, Washington 696
4. #90 Chris Beaulieu – Campbell River, BC 687
5. #27 Lawrence O'Conner – Port Hardy, BC 669
6. #7 Kevin Smith – Sedro Woolley, Washington 651
7. #51 Craig Moore – Seabeck, Washington 604
8. #45 Tianna Berkeley – Colville, Washington 556
9. # 8 Rick Smith – Mt Vernon, Washington 532
10.#81 Lane Zerbin – Victoria, BC 480
11.#97 Tyson Blood – Olympia, Washington 450
12.#26 Scott Miller – Shelton, Washington 426
13.# 1 Collen Winebarger – Corbett, Oregon 424
14.#75 Graham Cooke – Parksville, BC 415
15.#58 James Wolford – Seabeck, Washington 410
16.# 5 Robert Jenner – Vancouver, Washington 406
17.#13 Grey Ferrando – Stayton, Oregon 393
18.#87 Brenton Schnitzer – Shelton, Washington 384
19.#19 Brad Martin – Warren, Oregon 382
20.# 6 Don Jenner – Vancouver, Washington 379