PENTICTON, BC – Darrell Midgley recorded back to back 6th place finishes at Penticton Speedway on the Thanksgiving long weekend. The Okanagan facility was holding its annual Late Model Invitational. This was Midgley's first visit to this facility since his 2nd place finish back in September of 2009. A total of 15 Late Models took to the track Saturday night for the only qualifying session of the weekend. The race weekend was sponsored by Northern Provincial Pipelines Ltd. Midgley drove the NPP/Keg Restaurant #81 Dodge to the number-one spot. Unfortunately his qualifying speed did not carry over to Saturday nights 75-lap Feature. "We started the race with tire pressures way down," admits Midgley, "we bottomed out and broke the sway bar." Midgley still managed to gain positions despite handing problems. "It was a good car but a handful for sure. Tried to make the most of it." Midgley ran as high as 4th in the Saturday night Feature.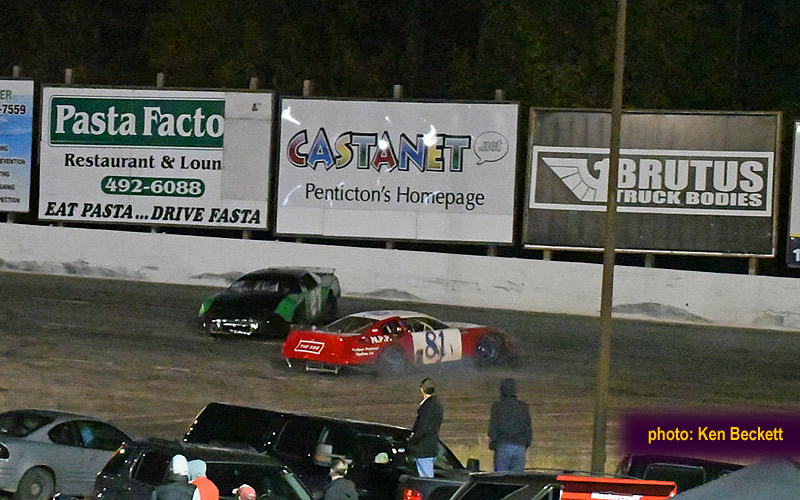 With 19 laps to go, Midgley, and the second fastest driver from qualifying came together and spun down the back straight. Tim Graham's night was over. Midgley restarted at the back of the pack and managed to salvage a 6th place finish. Just 8 cars finished on the lead lap. Victoria BC's Spencer Carlson drove on to victory and claimed a $3,000 payday.
The second day of the Late Model Invitation had Darrell Midgley posting the second fastest time in practice. "We were happy with the set-up (from Saturday night)." With no qualifying, the line-up for Sunday afternoon's 75-lap Feature was set by points earned from Saturday night's race (qualifying, finish). Midgley would start in the number 6 position. Before the race was even 10 laps in, Midgley moved his way up to 4th. By Lap 39, Midgley moved his way up to second and began pressuring race leader Mike Haslam. Sundays afternoon's Feature saw seven different race leaders. "It was a really hard fought race. Nobody was giving an inch."
On Lap 42, Midgley became the fourth different driver to lead. His time at the front however was brief as Haslam quickly grabbed back the top spot. Haslam then lost the lead to Russ Jansen who had just got by Midgley on Lap 46. With 5 laps remaining, the fight for second reached a boiling point. Midgley got into the back end of second place Haslam sending the driver spinning down the front straight. "That was more like a fight than a race," adds Midgley, "it was a battle for sure." Track officials felt the aggressive move by Midgley was intentional and sent him to the back of the pack.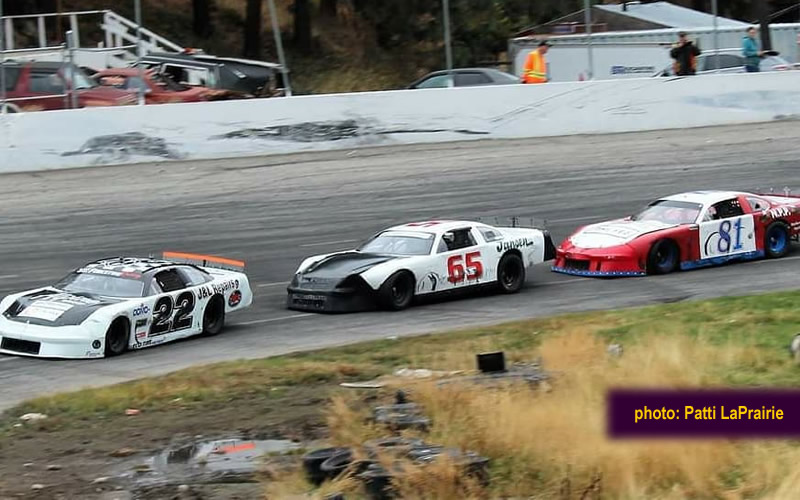 There would be no podium finish for the Team NPP driver Sunday afternoon in British Columbia. With 9 cars on the lead lap, Midgley passed three in the remaining laps for his second consecutive 6th place finish. Russ Jansen drove on to his first ever Late Model Feature at Penticton Speedway for a $3,000 payday. Midgley was quite complimentary on the race winner. "I thought the #65 (Jansen) drove a really good race. We raced side by side for a long time (Sunday afternoon)." Spencer Carlson, Saturday night's Feature winner, had mechanical problems and retired on lap 34. Penticton Speedway wraps up their 2020 season on Sunday, October 25th. Darrell Midgley's 6th place finish Sunday afternoon in southern British Columbia ends the 2020 season for Team Northern Provincial Pipelines. If the US border opens along with the lifting of Coronavirus restrictions, Team NPP is still considering a trip south to the Arizona desert and Tucson Speedway for the January 22 – 24 Chilly Willy Super Late Model event.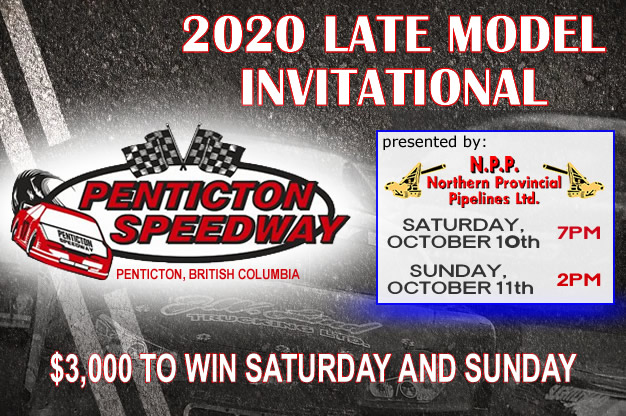 2020 LATE MODEL INVITATIONAL
Penticton Speedway – Penticton, BC
>Friday, October 10th
Lap 25 – #36 Grant Brown
Lap 50 – #36 Grant Brown
WINNER – #41 Spencer Carlson
>Saturday, October 11th
Lap 25 – #3 Rob Haslam
Lap 50 – #22 Mike Haslam
WINNER – #65 Russ Jansen